21 juli 2021
Zwart/roze Paris Saint Germain trainingsshirt 2021-2022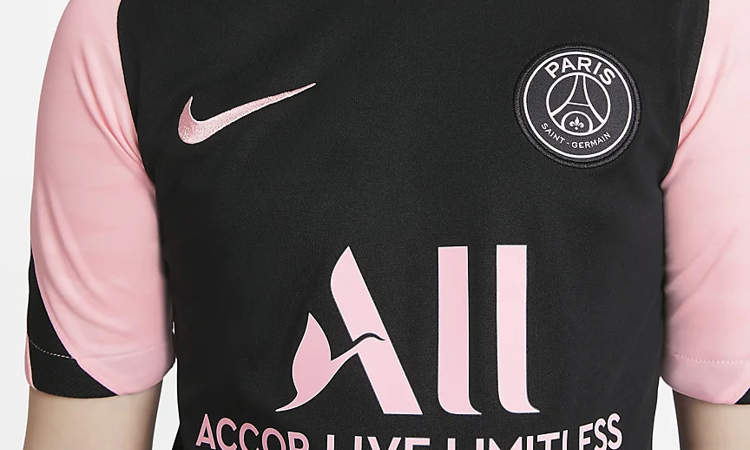 Paris Saint Germain draagt komend seizoen ook een zwart/roze trainingsshirt. Dit trainingsshirt is vandaag officieel gepresenteerd door de club en kledingsponsor Nike en wordt alleen gedragen tijdens de trainingen en warming-up ter voorbereiding op de Champions League, Ligue 1 en Coupe de France uitwedstrijden in 2021-2022. Het trainingstenue heeft dan ook dezelfde kleuren als het Paris Saint Germain uitshirt 2021-2022. 
Paris Saint Germain trainingsshirt 2021-2022
Dit nieuwe Paris Saint Germain training shirt is dus overwegend zwart en heeft hetzelfde template als het witte Paris Saint Germain trainingsshirt 2021-2022. Dit betreft het Nike Strike template. Dit template wordt met name gekenmerkt door de diagonale band over de mouwen. De mouwen van het trainingsshirt zijn roze en de diagonale band is zwart. Ook alle logo's op het Paris Saint Germain training shirt zijn roze. Op de rechterborst prijkt de swoosh van Nike en de andere borst bevat de badge van de club in een monochrome kleurencombinatie. Dit betekent dat de badge dezelfde kleurencombinatie heeft als de kleuren van het trainingstenue, in dit geval zwart/roze dus. Het logo van hoofdsponsor ALL (Accor Live Limitless) prijkt op het midden van het trainingsshirt. Nike is sinds 1989 de kledingsponsor van Paris Saint Germain en ALL is sinds het seizoen 2019-2020 de shirtsponsor van Paris Saint Germain. Op het trainingstenue van PSG staat dit seizoen echter nog een sponsor. Op de achterkant van het trainingstenue staat namelijk het logo van ''VISIT RWANDA.'' Het Afrikaanse land is sinds 2019 verbonden aan de Franse club. Verder bevat het zwart/roze Paris Saint Germain trainingsshirt een ronde hals met aan de achterkant een kleine v-opening.
Zwart/Roze Paris Saint Saint Germain warming-up shirt 2021-2022
Paris Germain draagt in de voorbereiding op de uitwedstrijden ook een ander warming-up shirt. Dit warming-up shirt is ook geheel zwart en bevat een all-over print van verschillende cijfers, welke afzonderlijk een waterlelie vormen. De zogenaamde 'fleur-de-lis' is één van de belangrijkste symbolen van de stad. De cijfers op het zwarte Paris Saint Germain warming-up shirt betreffen de postcodes van de verschillende wijken in de stad. Het Paris Saint Germain warming-up shirt heeft verder een ronde hals en de logo's van alle sponsors staan op dezelfde plek als op het trainingsshirt. Alleen de linkermouw van dit warming-up shirt bevat een diagonale band.
Beide zwart/roze Paris Saint Germain trainingstenues wordt gecompleteerd door een zwart trainingsbroekje met aan de zijkanten een diagonale, roze band. Ook de swoosh en het clublogo op het Paris Saint Germain trainingsbroekje zijn (zwart/)roze. Ook dit seizoen is alle Nike trainingskleding weer uitgerust met de Nike Dri Fit technologie, welke zorgt voor de perfecte ventilatie en afvoer van vocht. Dit systeem is in de stof (polyester) van het trainingstenue verwerkt. Check hieronder nog meer afbeeldingen van het zwart/roze Paris Saint Germain trainingstenue en check ook het zwart/roze Paris Saint Germain trainingspak. 
Paris Saint Germain trainingsshirt bestellen
Het zwart/roze Nike Paris Saint Germain trainingsshirt en warming-up shirt 2021-2022 kun je vanaf nu voor volwassenen en kinderen bestellen. De prijzen van het traningstenue zijn hetzelfde als afgelopen seizoenen. Voor volwassenen (maten S, M, L, XL en XXL) is het training shirt € 44,95 en voor kinderen (maten 128, 140, 152, 164 en 176) € 39,95. Het warming-up shirt is € 59,95 voor volwassenen en € 54,95 voor kinderen. De trainingsbroekjes bestel je vanaf € 29,95!
Bestel je Paris Saint Germain trainingsshirt altijd in de officiële Nike SHOP! 
of deze SHOP!
of deze winkel!