2 januari 2018
Paris Saint Germain warming-up shirt 2018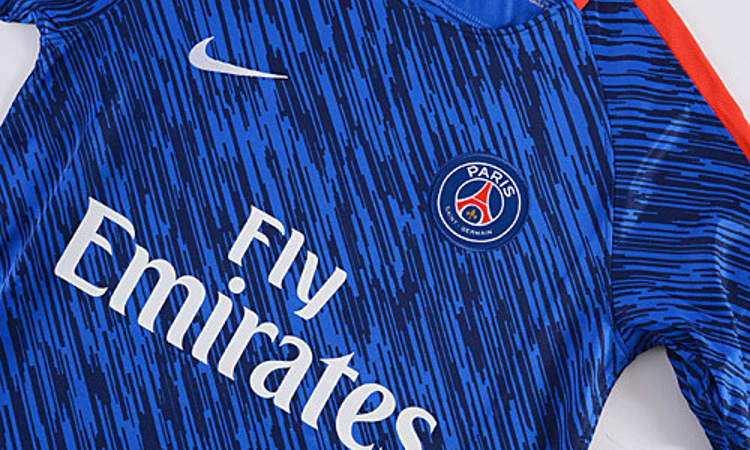 Paris Saint Germain treedt vanaf nu in een geheel nieuw warming-up shirt aan. Afgelopen weekend hebben Nike en de Parijzenaren het nieuwe PSG inloopshirt voor 2018 uitgebracht. Dit shirt wordt door de club van trainer Unai Emery gedragen tijdens de warming-up ter voorbereiding op de Ligue 1 en Champions League wedstrijden gedurende de tweede seizoenshelft van 2017-2018. Dit betekent dat de spelers van Paris ook in dit shirt te zien zijn in de voorbereiding op de Champions League achtste finalewedstrijden tegen Real Madrid op 14 februari en 6 maart. Dit is overigens het laatste warming-up shirt of pre match top van dit seizoen. De volgende collectie wordt pas weer in mei/juni bekend gemaakt en dit betreft dan direct de collectie voor het seizoen 2018-2019. Meer weten over het shirt? Lees het hieronder!
Blauw Paris Saint Germain pre match top 2018
In vergelijking met de eerder dit jaar gelanceerde warming-up shirts is heeft het shirt een nieuw design gekregen. We moeten zeggen dat dit shirt nog flitsender is dan de eerder gelanceerde inloopshirts. Hoewel het shirt dezelfde kleur heeft als het nieuwe trainingsshirt voor 2018, heeft de Paris Saint Germain pre match top voor 2018 een nog rijkere uitstraling. Het shirt is overwegend blauw (HYPER COBALT) en bevat flitsende strepen. Dit design wordt ook een scribble graphic print genoemd, verwijzend naar de krabben van een kat. Het heeft er inderdaad wat van weg! Deze print bevindt zich zowel op de voorkant als op de achterkant van het warming-up shirt van PSG! De rode details uit de clubkleuren van de Franse grootmacht mogen natuurlijk ook niet ontbreken op het shirt. Deze zijn terug te vinden in de strip over de schouders en mouwen en in de de strip achter de crew neck. De rijke uitstraling van het tenue komt ook weer tot uiting in de achterkant van het shirt. Dit is ook direct een belangrijk verschil met het trainingsshirt. Op de achterkant van het shirt is namelijk de naam van de stad geplaatst: PARIS. Op de borst van het shirt staan de logo's van Nike (een witte swoosh) en Paris. Op het midden van het shirt prijkt sponsor Fly Emirates, dat sinds 2006 hoofdsponsor is van Paris SG.
Dan nog een aantal opmerkingen van technische aard. Het shirt heeft een lekkere getailleerde pasvorm. Het shirt is namelijk uitgerust met raglanmouwen, welke ervoor zorgt dat de mouwen strak om de armen vallen, zonder dat je bewegingsvrijheid verliest. De achterzoom van het shirt is net wat langer en dit biedt wat extra bescherming! Uiteraard is het shirt ook voorzien van de Dri Fit technologie van het Amerikaanse sportmerk.
Niet alleen het trainingsshirt en dit warming-up shirt maken onderdeel uit van de nieuwe trainingscollectie, PSG heeft ook een nieuw trainingspak, welke vanaf nu gedragen wordt door spelers als Silva, Di Maria, Mbappe, Verratti, Neymar JR en andere sterren.
Paris Saint Germain inloopshirt bestellen
Het warming-up shirt van Paris Saint Germain voor 2018 kan je vanaf nu bestellen. Het shirt kan je voor kinderen (maten 128, 140, 152, 164, 176) en volwassenen (maten S, M, L, XL en XXL) bestellen in de onderstaande winkels. Voor kinderen heeft het shirt een prijs van € 50,- en voor volwassenen heeft het shirt een prijs van € 55,-. Wil je andere PSG producten bestellen? Check dan ook het overzicht met beschikbare producten hiernaast of hieronder. Directe levering!
Scoor het nieuwe warming-up shirt van PSG voor 2018 in deze online winkel!
of deze SHOP!