18 mei 2019
Paris Saint Germain trainingsshirt 2019-2020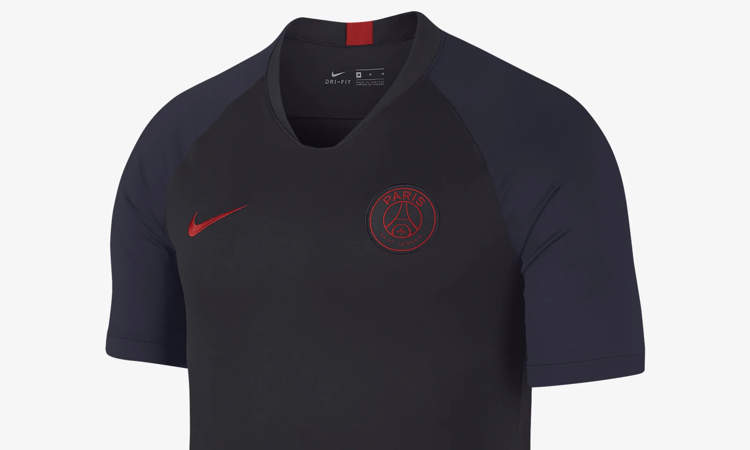 Het nieuwe Paris Saint Germain trainingsshirt voor 2019-20 is vandaag officieel gelanceerd door de Parijzenaren en kledingsponsor Nike. We waarschuwen alvast, in vergelijking met afgelopen seizoen is de nieuwe trainingskleding van PSG wat grauwer. Dat kon ook bijna niet anders. De kleurencombinatie van zwart/roze is een populaire en bijna niet te overtreffen. De kleuren van het nieuwe trainingsshirt zijn wel afgeleid te zijn van de kleuren van de trainingskleding van vorig seizoen. Benieuwd? Check het hieronder!
Grijs/Rood Paris Saint Germain trainingsshirt en broekje 2019-2020
Het nieuwe Paris Saint Germain trainingsshirt wordt door de spelers van de Parijzenaren gedragen tijdens de trainingen en warming-up ter voorbereiding op de wedstrijden in de Franse competitie, de beker en Champions League gedurende in 2019-20. Qua template heeft het Amerikaanse sportmerk niks veranderd. Het shirt heeft namelijk opnieuw het zogenaamde Vapor template. Dit template wordt gekenmerkt door de zogenaamde Vapor hals. Dit is een combinatie van een diagonale en rechte hals. Bovendien wordt het template gekenmerkt door de flitsende diagonale strepen over de schouders en mouwen. Deze komen ook weer terug op de mouwen van het PSG trainingsshirt. Verder is het Paris Saint Germain trainingsshirt geheel donker grijs (OIL GREY door Nike genoemd), waarbij de mouwen een net iets lichtere tint grijs zijn. Dit betreffen overigens raglanmouwen. Het shirt bevat bovendien rode details en deze tint komt met name terug in de swoosh van Nike op de rechter borst, het logo van de club op de linker borst en de taping aan de binnenkant en achterkant van de hals. Nike heeft ook weer een bijbehorend trainingsbroekje bij dit tenue uitgebracht. Het broekje is ook donkergrijs met rode logo's van Nike en de club. Bovendien bevat het trainingsbroekjes van PSG de flitsende diagonale strepen aan de zijkanten. De trainingskleding van Nike is ook dit seizoen weer uitgerust met de Dri Fit technologie, welke zorgt voor verkoeling, ventilatie en vochtafvoer. 
Check hieronder de afbeeldingen van het nieuwe trainingsshirt van Paris Saint Germain en check ook het nieuwe trainingspak of thuisshirt van 2019-2020. De nieuwe collectie wordt vanaf nu gedragen door spelers als Neymar, Mbappe, Cavani, Draxler, Rabiot, Di Maria en nog meer sterspelers. 
Paris Saint Germain trainingsshirt bestellen
Het grijs/rode Paris Saint Germain trainingsshirt kun je pas vanaf deze zomer bestellen in de onderstaande winkels. Het shirt heeft een prijs van EU 45,- voor volwassenen (maten XS, S, M, L, XL en XXL) en voor kinderen is het shirt EU 40,- (maten 128, 140, 152, 164, 176). De broekjes hebben een prijs van EU 35,-. Check ook andere PSG producten in het overzicht hiernaast of hieronder! Directe levering gegarandeerd!
Bestel je nieuwe Paris Saint Germain trainingsshirt altijd in deze SHOP
of deze winkel!