7 augustus 2019
Paris Saint Germain Jordan Brand warming-up shirt 2019-2020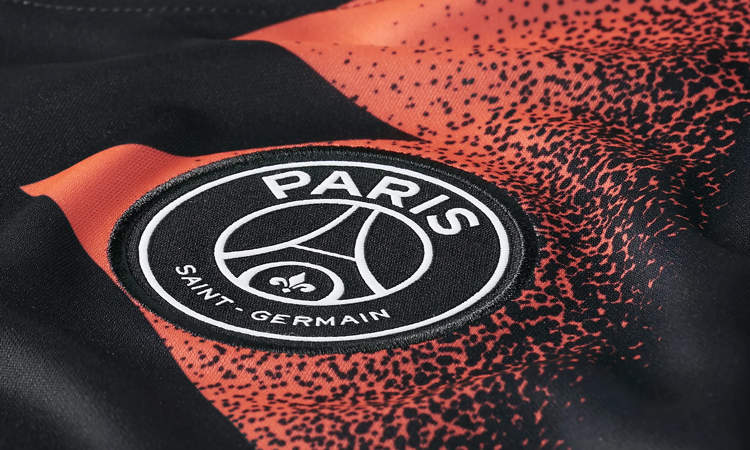 Ook dit jaar bestaat de Paris Saint Germain training collectie weer uit een aantal items van Jordan Brand! De kampioen van Frankrijk ging vorig jaar een samenwerking aan voor de duur van drie seizoenen met het basketbalmerk, dat onderdeel is van het merkenportfolio van Nike. Niet alleen het Paris Saint Germain uitshirt voor 2019-2020 bevat het logo van Jordan Brand, ook een aantal andere functionele items. Onderdeel van de nieuwe PSG x Jordan Brand collectie is ook een speciaal warming-up shirt of pré match top. Of dit trainingsshirt ook daadwerkelijk door de sterren van PSG gedragen wordt, is de vraag. Feit is dat dit voetbalshirt van Jordan Brand er goed uitziet.
Paris Saint Germain Jordan Brand pré match top
Het Paris Saint Germain Jordan Brand trainingsshirt is overwegend zwart en wordt gekenmerkt door de print van oranje en witte bliksemschichten over het shirt. Dit patroon loopt ook door over de mouwen en achterkant van het shirt en hebben een zogenaamd brush effect. De kleurencombinatie van het warming-up shirt is er niet zo maar één. Het zijn namelijk de kleuren van één van de eerste Air Jordan sneakers. Het trainingsshirt is bovendien uitgerust met een ronde hals en op de rechterborst prijkt in plaats van de swoosh van Nike de jumpman van Jordan Brand. De linkerborst van het shirt is uitgerust met het logo van Paris. Dit warming-up shirt is er overigens in een versie met de naam van de stad op de borst en zonder. De naam van de stad (PARIS) verschijnt in een zwart vlak op de borst. Voor de letter A is de jumpman van Jordan gebruikt. Tijdens de warming-up voorafgaande aan de oefenwedstrijd tegen Inter Milan eind juli zagen we al een glimp van het nieuwe warming-up shirt van Paris. We verwachten dat dit shirt ook gedragen wordt in de voorbereiding op de andere uitwedstrijden dit seizoen. Deze shirts zijn uiteraard uitgerust met de Nike Dri Fit technologie voor een optimale prestatie.

Check hieronder nog meer afbeeldingen van het speciale Paris Saint Germain X Jordan Brand warming-up shirt voor 2019-2020 en check ook het vette en modieuze Paris Saint Germain Jordan Brand sweat trainingspak voor dit seizoen.
Paris Saint Germain warming-up shirt bestellen
Het Paris Saint Germain Jordan Brand pré match top voor 2019-2020 kun je vanaf nu bestellen voor volwassenen. Het shirt heeft een prijs van € 54,95 en is beschikbaar in de maten S, M, L, XL en XXL. Check ook andere Jordan producten van PSG in deze shops. Directe levering!
Bestel het PSG X Jordan Brand shirt direct in deze SHOP (inclusief officiële bedrukking)
of deze winkel!