15 mei 2018
Paris Saint Germain draagt zwart/roze trainingsshirt in 2018-2019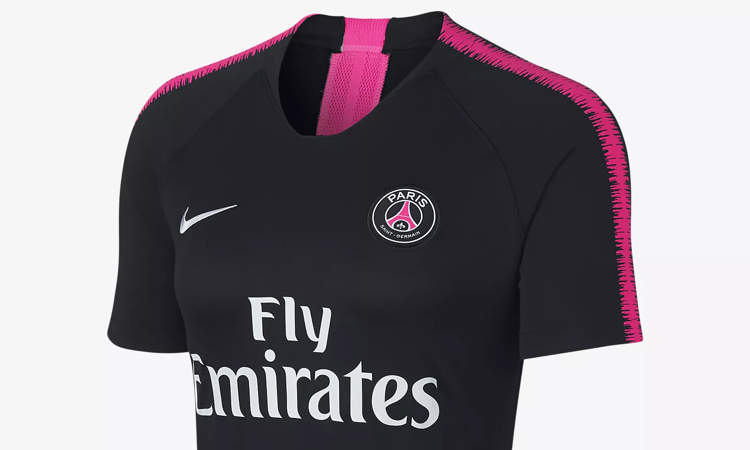 Paris Saint Germain draagt vanaf nu weer een nieuw trainingsshirt. Dit nieuwe shirt werd namelijk tegelijkertijd met het thuisshirt van 2018-2019 bekend gemaakt door de club en kledingsponsor Nike. Eerder brachten we al het design van het nieuwe warming-up shirt van de Parijzenaren. Het trainingsshirt wordt echter alleen gedragen tijdens de trainingen ter voorbereiding op de Ligue 1, Coupe de Ligue en Champions League wedstrijden gedurende 2018-2019 en dus niet tijdens de warming-up. Dit jaar hebben Nike en de kampioen van Frankrijk voor een opvallend design gekozen.
Paris Saint Germain training shirt en broekje 2018-2019
Het nieuwe Paris Saint Germain training shirt voor 2018-2019 is namelijk zwart met roze accenten. Deze roze details zijn vooral te vinden in de flitsende strip over de schouders en mouwen. Ook dit jaar bestaat deze taping weer uit dunne, horizontale strepen. De trainingsshirts zijn ook dit jaar weer uitgerust met een ronde hals of crew neck en op de borst prijken de logo's van de club en Nike, dat al sinds eind jaren '80 de trainingskleding en tenues van PSG verzorgt. Opvallend is dat de swoosh van Nike op het shirt niet roze is, maar wit. Vaak heeft het logo dezelfde kleur als de taping op de mouwen. Uiteraard mag het logo van hoofdsponsor Fly Emirates op het midden van het shirt niet ontbreken. De vliegmaatschappij en PSG zijn sinds 2006 partners. Uiteraard heeft het shirt ook nog een aantal technische kenmerken. De mouwen zijn, zoals we gewend zijn, raglanmouwen. Kenmerkend hieraan is dat deze strak om de armen vallen en goed meebewegen met de bewegingen van de armen, waardoor de spelers voldoende bewegingsvrijheid hebben. Ook zijn de shirts weer uitgerust met de Nike Dri Fit technologie, welke zorgt voor verkoeling, ventilatie en vochtafvoer, voor een optimale prestatie.
Nike en PSG hebben dit jaar het trainingsshirt voor het eerst in een versie voor dames uitgebracht. Dit shirt heeft hetzelfde design. Dit shirt heeft hetzelfde design, maar een speciale fit voor vrouwen. Dit betekent dat de hals iets dieper is en het shirt iets getailleerder valt. Ook dit jaar heeft Paris Saint Germain een nieuw trainingsbroekje. Dit broekje is geheel in stijl van het shirt. Het broekje is ook zwart en bevat aan de zijkanten de flitsende, roze taping. De bovenkant van het short bevat een tailleband en op de broekjes prijken ook de logo's van Nike en de club.
Check hieronder nog meer foto's van het nieuwe training shirt van PSG. Hierin trainen vanaf nu spelers als Neymar JR, Cavani, Mbappé, Alves en andere sterren. Check ook het nieuwe trainingspak of thuisshirt voor 2018-2019.
Paris Saint Germain trainingsshirt bestellen
Het nieuwe training shirt en broekje van Paris Saint Germain kan je vanaf nu bestellen in de onderstaande webshops. De prijs van het shirt is voor volwassenen € 45,- en voor kinderen € 40,-. Het broekje is voor volwassenen € 40,- en voor kinderen € 35,-. Wil je andere producten van de club bestellen? Check dan ook het overzicht hiernaast of hieronder. Directe levering gegarandeerd!
Bestel het nieuwe trainingsshirt in de officiële Nike SHOP! 
of deze winkel! 
of deze SHOP!