10 januari 2019
Het Paris Saint Germain tech fleece pak voor kinderen 2019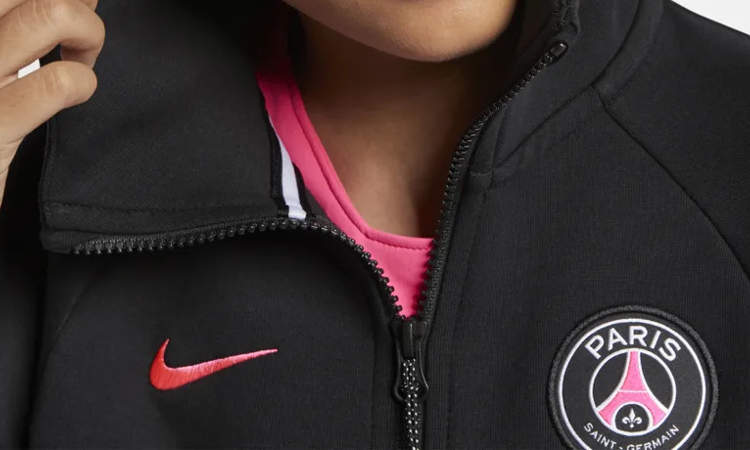 We raken er maar niet over uitgepraat! De zwart/roze trainingskleding en casual kleding van Paris Saint Germain is dit jaar super hot. Je zou de club en Nike bijna adviseren om hier de komende jaren mee door te gaan. Zo werkt het helaas niet. Ieder kwartaal wordt de trainingskleding en casual kleding van de club qua kleur geupdate. Alles voor nog meer omzet van merchandising! Sommige kleurencombinaties zijn net wat sterker en modieuzer. Zwart en roze is zo'n combinatie. Om die reden lanceren PSG en Nike zoveel mogelijk roze items dit seizoen. Vanaf vandaag is daar een nieuw pak bij gekomen, waarvan wij voorspellen dat dit pak onder de jeugd populair wordt!
Paris Saint Germain tech fleece vest en broek - Zwart/roze
Het nieuwe Paris Saint Germain tech fleece pak voor 2019 is vanaf nu ook in kindermaten beschikbaar en dit pak heeft niet geheel ontoevallig de kleurencombinatie zwart/roze. Het tech fleece pak wordt overigens niet vaak door de spelers van Paris Saint Germain gedragen, maar is voor deze periode het perfecte pak om in te chillen. Daarover hebben we het straks. Er is wel een trend gaande dat de tech fleece joggingspakken steeds meer als presentatiepak gebruikt worden. Voor de spelers van Paris Saint Germain is het namelijk een ideaal pak om zich zo ontspannen mogelijk in voor te bereiden op de wedstrijden het komende half jaar!
Het zwart/roze Paris Saint Germain tech fleece pak voor kinderen heeft hetzelfde design als het pak voor volwassenen. Het tech fleece joggingspak van Nike bestaat voor KIDS ook uit een vest en een joggingsbroek. Het vest is geheel zwart met roze tinten. De swoosh is namelijk roze en dit geldt ook voor de Eiffeltoren in het logo van de club. Waarom dit het ideale pak is voor de winter? Het pak is gemaakt van het speciale tech fleece materiaal. Dit is een combinatie van polyester en katoen. Kenmerkend aan fleece is dat het je lekker warm houdt en het ook nog eens zacht aanvoelt. De tech fleece pakken hebben ook nog eens een modieus design. Het vest bevat namelijk ook een capuchon. Bovendien heeft het vest een getailleerde fit en bevatten de zijkanten twee diepe zakken.
Alle kenmerken van het vest hebben ook betrekking op de joggingsbroek! Ook deze is gemaakt van het super zachte tech fleece materiaal. Een kenmerk van de Paris Saint Germain tech fleece broek is wel de toelopende pasvorm. Dit betekent dat de broek vooral strak om de enkels en kuiten valt. Ook de broek bevat twee zakken en met de tailleband aan de bovenkant van de joggingsbroek van Paris Saint Germain kan de fit van de broek versteld worden. Check hieronder nog meer afbeeldingen het nieuwe tech fleece joggingspak van Paris Saint Germain voor kinderen of check het nieuwe roze trainingspak voor kinderen!
Paris Saint Germain Nike tech fleece pak kinderen bestellen
Het Paris Saint Germain tech fleece pak voor kinderen kan je vanaf nu bestellen. Het vest en de broek kunnen los van elkaar besteld worden en dit kan in de maten 122, 128, 140, 152, 164 en 176. Het vest heeft een prijs van € 80,- en de broek is € 70,- voor kinderen. Wil je andere PSG producten bestellen? Check dan ook het overzicht hiernaast of hieronder. Directe levering!
Bestel het nieuwe Paris Saint Germain tech fleece pak in deze SHOP!
of  deze winkel!