14 juni 2017
Real Madrid keepersshirt 2017-2018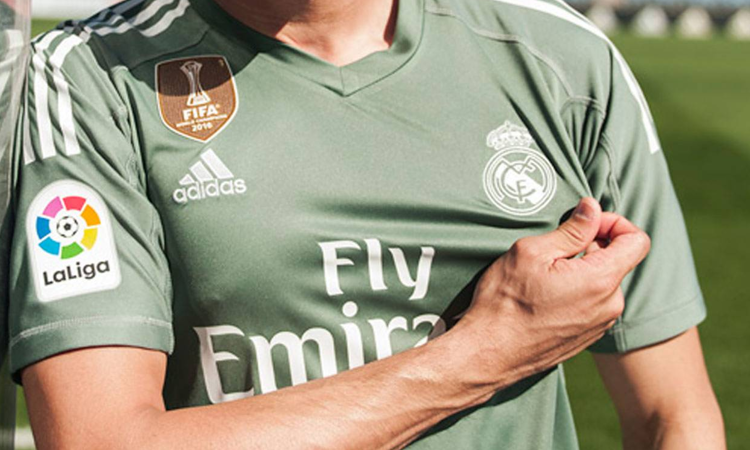 Het nieuwe Real Madrid keepersshirt voor 2017-2018 is tegelijkertijd met het nieuwe thuis- en uitshirt bekend gemaakt. In dit nieuwe shirt werken keepers als Navas en Yanez de La Liga, Copa del Rey en Champions League wedstrijden af gedurende 2017-2018. Check hieronder de details van het nieuwe tenue van de keepers van de Madrilenen. Dit tenue wordt overigens alleen tijdens de thuiswedstrijden in het Santiago Bernabeu gedragen.
 Groen Real Madrid keeper shirt en tenue 2017-2018
Het nieuwe keepersshirt van Real Madrid voor 2017-2018 lijkt komend seizoen overwegend is overwegend leger groen. Deze kleur wordt door adidas ''TRACE GREEN'' genoemd. Het nieuwe keeperstenue is bovendien gebaseerd op het adidas REVIGO 17 template. Dit is ook het template waarop de keeperstenues van AC Milan, Bayern München en Juventus zijn gebaseerd. Dit betekent dat het nieuwe shirt een v-hals bevat en dat de drie strepen van het Duitse sportmerk op de schouders aanwezig zijn. Deze stripes zijn wit. Op de borst van het nieuwe tenue van Navas prijken de logo's van de club en adidas en op het midden van het shirt staat Fly Emirates in het wit. Het keeperstenue wordt gecompleteerd door een keepersbroekje in dezelfde kleur en ook de kousen hebben dezelfde tint groen als het keepersshirt en broekje. De kousen bevatten aan de bovenkant drie verticale adidas stripes en op de keeperssokken staan ook de initialen van de Champions League winnaar van 2016 en 2017. Vandaag maakten Real Madrid en adidas ook de andere voetbalshirts voor dit seizoen bekend. Check het nieuwe Real Madrid thuisshirt en uitshirt voor 2017-2018.
Alle nieuwe tenues van Real Madrid zijn uitgeerust met de adidas Climacool of Climalite technology, welke zorgt voor verkoeling, ventilatie en vochtafvoer, zodat de spelers optimaal kunnen presteren. 
Real Madrid keepersshirt en tenue kopen
Het nieuwe Real Madrid keepersshirt en tenue van Navas voor 2017-2018 kan je vanaf nu kopen voor kinderen en volwassenen. Dit shirt kan je dus kopen in de maten 128, 140, 152, 164, 176, S, M, L, XL en XXL. De prijs van het shirt voor volwassenen is € 99,95 en voor kinderen € 74,95. Het keepersbroekje heeft een prijs van € 39,95 voor volwassenen en € 34,95 voor KIDS. De keeperskousen zijn € 17,95. In deze shops kan je het voetbalshirt van Real laten bedrukken met een eigen naam en nummer of' één van de spelers. Wil je andere Real Madrid producten kopen? Check het overzicht met beschikbare producten hiernaast of hieronder! Directe levering. 
Koop het nieuwste Real Madrid keepersshirt in deze Real Madrid SHOP of
de officiële ADIDAS Real SHOP!