29 mei 2018
Real Madrid draagt nieuw ZNE anthem trainingsjack in 2018-2019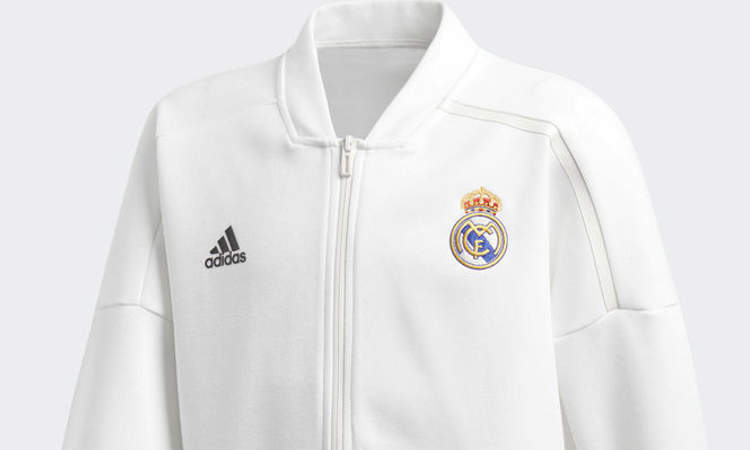 Het nieuwe ZNE anthem trainingsjack van Real Madrid is zo goed als officieel bekend gemaakt door de Spaanse club en kledingsponsor adidas. Dit betreft het jack waarin de spelers van Los Blancos te zien zijn bij de opkomst op het veld voorafgaande aan de La Liga, Copa del Rey en Champions League wedstrijden tijdens het seizoen 2018-2019. De lancering van het jack is kort voor de bekendmaking van het nieuwe thuisshirt voor 2018-2019. Het ZNE jack is overigens ook het trainingsjack waarin sterren als Ronaldo, Marcelo, Ramos en Asensio te zien zijn bij het afspelen van het CL anthem voorafgaande aan de wedstrijden in het kampioenenbal. Check hieronder alle informatie over het nieuwe trainingsjack van de equipe van Zinedine Zidane.
Wit Real Madrid trainingsjack 2018-2019
Voor het trainingsjack heeft adidas van hetzelfde template gebruik gemaakt als voor de WK jacks van landen als Argentinië, Duitsland, Colombia, Mexico en Spanje. Ook het nieuwe Bayern Munchen trainingsjack voor 2018-2019 heeft dit template. Het jack is bovendien en natuurlijk in stijl van de kleuren van het thuisshirt van ''de Koninklijke.'' Het jack is namelijk geheel wit en bevat een baseball collar. Verder bevat het trainingsjack van Real weinig opvallende details. Wat wel opvalt is dat het jack geen adidas strepen bevat. Deze zijn zowel op de schouders als aan de zijkanten van het jack weggelaten. In plaats daarvan zijn er andere details aangebracht op het jack. Zo is de achterkant van het jack uitgerust met de naam van de club: REAL MADRID. Deze tekst is zwart. Ook voor het lettertype van deze tekst heeft adidas weer afgekeken van de WK 2018 collectie. Deze letters hebben namelijk dezelfde stijl als de letters van de officiele bedrukking op de WK tenues waarvan het merk kledingsponsor is. De bovenkant van de achterkant is daarnaast uitgerust met nog een speciaal detail. Hier prijkt namelijk een lusje in het wit. Alle adidas ZNE anthem jacks voor 2018-2019 bevatten een lusje in de clubkleuren of de vlag van het desbetreffende land. Verder bevat het jack natuurlijk de gebruikelijke details.De rechter borst is uitgerust met het adidas performance logo en de linker borst bevat het logo van de Champions League finalist van 2018. Verder bevat het jack twee zakken aan de zijkanten en is het gemaakt van een combinatie van polyester en katoen, waardoor het trainingsjack lekker zacht en comfortabel aanvoelt. Het is om die reden een ideaal jack om in te trainen of om de club mee aan te moedigen!
Check hieronder nog meer afbeeldingen van het nieuwe Real Madrid trainingsjack en check ook waar je dit jack exclusief kunt bestellen!
Real Madrid trainingsjack bestellen
Het Real Madrid anthem jack kan je vanaf eind mei bestellen in de onderstaande SHOP! De prijs van het jack is voor volwassenen EU 79,95 en voor kinderen EU 69,95. Het jack is dus beschikbaar in de maten 128, 140, 152, 164, 176, XS, S, M, L en XL. Wil je andere producten van de club bestellen? Check ook het overzicht met beschikbare producten hiernaast of hieronder. Directe levering gegarandeerd!
Bestel het nieuwe jack exclusief in deze officiele SHOP!