24 juli 2017
Real Madrid Champions League anthem trainingsjack 2017-2018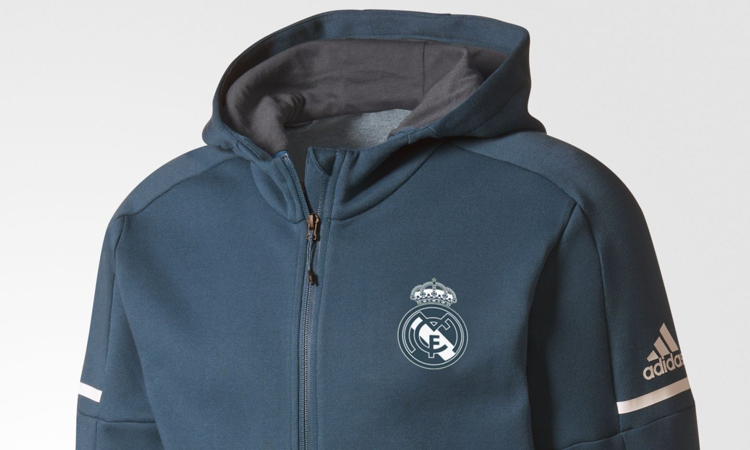 Real Madrid en adidas hebben dit weekend ook weer een nieuw anthem jack gelanceerd. Dit gebeurde tegelijkertijd met de bekendmaking van het nieuwe 3e shirt van de Champions League winnaar en Spaanse kampioen. Het is inmiddels ook alweer het derde anthem trainingsjack dat de club en adidas lanceren voor 2017-2018. Het jack waar we het nu over hebben wordt vooral gedragen tijdens de opkomst op het veld voorafgaande aan de Champions League wedstrijden gedurende dit seizoen. Het anthem jack is bovendien het jack waarin we de spelers zien wanneer het CL anthem wordt afgespeeld, vlak voor de wedstrijden in het kampioenenbal. Check hieronder alle details over één van de meest populaire jacks van adidas, welke vanaf nu gedragen wordt door spelers als Ronaldo, Modric, Benzema, Bale, Isco, Ramos, Marcelo en andere sterren.
Het nieuwe anthem jack van Los Blancos heeft dezelfde kleur als het nieuwe 3e shirt van Real Madrid. Het nieuwe jack is namelijk donker turquoise. Deze kleur wordt door adidas ''petrol night'' genoemd. Verder wordt het jack dat de spelers dragen bij de opkomst, gekenmerkt door de driedelige capuchon met een zwarte binnenvoering. Daarnaast is het jack uitgerust met witte accenten. Zo is het logo van adidas op de linker mouw wit, evenals de streep die zich op beide mouwen bevindt. De linker borst bevat het logo van de Spaanse club, die haar thuiswedstrijden speelt in het Santiago Bernabeu. Opvallend is dat dit jack geen drie strepen van adidas bevat. Deze drie strepen staan altijd wel op de voetbalshirts, tenues en trainingskleding van de clubs, waarvan adi kledingsponsor is, maar zijn op dit jack weggelaten. De mouwen van het jack zijn zogenaamde raglanmouwen. Deze vallen strak om de armen en bewegen ook nog eens perfect mee met de bewegingen van de armen. Hierdoor verlies je geen bewegingsvrijheid. De zijkanten van het jack bevatten twee zakken. Deze zijn zo diep, dat adidas deze zakken ''kangoeroezakken'' noemt. Het jack bestaat uit een combinatie van katoen (70%) en polyester (30%), waardoor het zacht aanvoelt en het jack perfect is om in te trainen of ook om casual te dragen. 

Check hieronder nog een foto van het nieuwe jack en check ook het eerder gelanceerde witte en zwarte jack van ''De Koninklijke'', welke bij het nieuwe thuisshirt en uitshirt horen. 
Real Madrid anthem jack 2017-2018 kopen
Het anthem trainingsjack van Real Madrid kan je per direct voor volwassenen kopen. Dit jack kan je direct kopen in de maten S, M, L, XL en XXL. De prijs van het jack voor volwassenen is € 89,95. Wil je andere producten van Real Madrid kopen? Check dan het overzicht met beschikbare producten hiernaast of hieronder. Directe levering gegarandeerd.
Koop het nieuwe Real Madrid trainingspak na lancering in deze online WINKEL!
of deze SHOP!