31 mei 2017
Paris Saint Germain trainingsshirt 2017-2018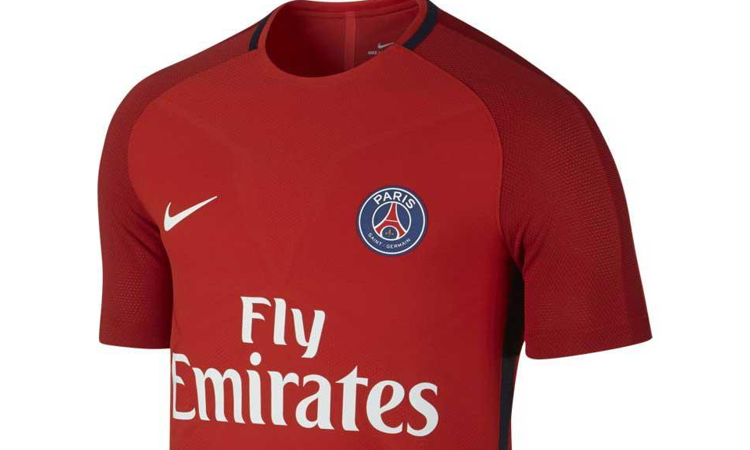 Tegelijkertijd met de lancering van het nieuwe thuisshirt voor 2017-2018 is het nieuwe trainingsshirt van Paris Saint Germain voor 2017-2018 officieel bekend gemaakt door Nike en de Franse club. Dit nieuwe trainingsshirt wordt door PSG gedragen tijdens de trainingen en warming-up ter voorbereiding op de Ligue 1, Coupe de Lige, Coupe de France en Champions League wedstrijden dit seizoen. Zoals altijd hebben de club en Nike zowel een replica als authentic versie van het shirt gelanceerd. We bespreken beide shirts en het bijbehorende trainingsbroekje van het trainingstenue van PSG!
Rood Paris Saint Germain training shirt 2017-2018
Het nieuwe Paris Saint Germain trainingsshirt voor 2017-2018 is dit seizoen overwegend rood en bevat de iconische strip van Nike over de schouders en mouwen. Deze strip is navy blauw en is verdeeld in flitsende horizontale strepen. Verder heeft het shirt het gebruikelijke design. Dit betekent dat het shirt een crew neck heeft met aan de achterkant een blauwe band. Op de borst prijken de logo's van de club en Nike en sponsor Fly Emirates versiert het midden van het shirt. Dit trainingsshirt is uitgerust met de Nike Dri Fit technology, welke zorgt voor verkoeling, ventilatie en vochtafvoer, zodat de spelers optimaal kunnen presteren. Deze technologie komt vooral terug in een vlak aan de achterkant van het shirt. De mouwen zijn de zogenaamde raglanmouwen, welke strak om de armen vallen, zonder dat je bewegingsvrijheid verliest. Tot zover het replica trainingsshirt, welke voor volwassenen een prijs van € 44,95 heeft en voor kinderen een prijs van € 39,95. Het authentic shirt, dat wat duurder is, is uitgerust met nog meer andere technologieën.
PSG Strike trainingsshirt 2017-2018
Het authentic trainingsshirt van PSG heeft een prijs van € 100,- en is alleen voor volwassenen beschikbaar. Dit shirt heeft vrijwel hetzelfde design en is bovendien uitgerust met de AEROSWIFT technologie. Deze technologie zorgt ervoor dat het shirt nog lichter is en nog strakker om het lichaam valt. Deze technologie zorgt er daarnaast voor dat zweet en vocht nog sneller naar buiten wordt getransporteerd en dat je nog meer snelheid kan maken op het veld. Deze unieke technologie van Nike combineert bewegingsvrijheid met ventilatie. De mouwen bevatten bijvoorbeeld ribbels, waardoor je je nog makkelijker kan bewegen. De hals bevat een speciale tape, waardoor de pasvorm nog beter is. Qua design heeft het shirt dezelfde kenmerken als het replica trainingsshirt.
PSG trainingsbroekje 2017-2018
Het nieuwe trainingstenue van PSG wordt gecompleteerd door een blauw trainingsbroekje. Dit short bevat aan de zijkanten de rode strip met horizontale strepen. Bovendien prijken de logo's van Nike en de club op de shorts. Ook van dit voetbalbroekje bestaat een replica en authentic versie. De authentic versie, het zogenaamde STRIKE short, heeft een prijs van € 70,- en de replica versie een prijs van € 39,95 voor volwassenen. Voor KIDS is het broekje € 34,95. Check ook het nieuwe Paris Saint Germain trainingspak voor 2017-2018!
Wil je direct het nieuwe rood/blauwe Paris Saint Germain trainingsshirt en tenue kopen voor kinderen en volwassenen? Dat kan in de onderstaande shops. Het trainingstenue is vanaf nu beschikbaar in de maten 128, 140, 152, 165, 176, S, M, L, XL en XXL. Wil je andere Paris Saint Germain producten kopen? Check dan ook het overzicht met beschikbare producten hiernaast of hieronder! Directe levering. 
Scoor het nieuwe trainingsshirt van PSG in deze online winkel!
of deze SHOP!