26 september 2019
Paris Saint Germain windrunner 2019-2020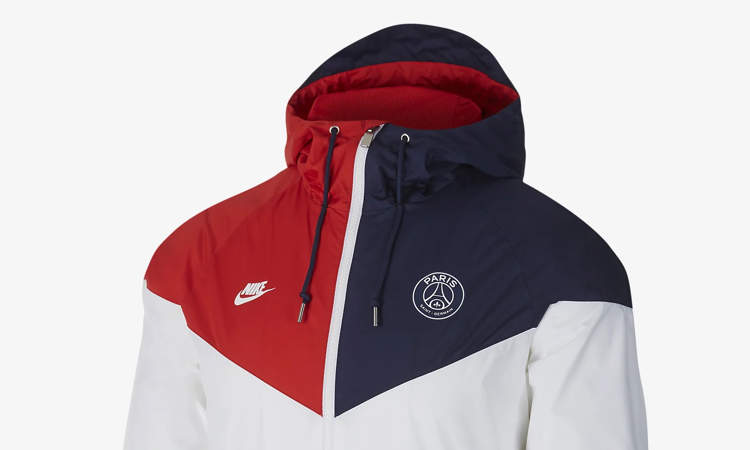 De spelers van Paris Saint Germain dragen deze herfst en winter weer een nieuwe windrunner tijdens de regenachtige en winderige trainingen. Deze windrunner is afgelopen week door de Franse club en kledingsponsor Nike gelanceerd. Het windjack of regenjack (hoe je het wilt noemen) is onderdeel van de nieuwe Champions League lijn van PSG en is dan ook geheel in stijl van de kleuren van het nieuwe alternatieve uitshirt of 3e shirt van Paris Saint Germain. Zoals we van de windrunner gewend zijn, bevat het jack ook dit seizoen weer vette heritage details. Dit jaar zijn het er zelfs nog meer dan voorgaande jaren.
Het witte Paris Saint Germain windjack voor 2019-20
Qua kleuren is de Paris Saint Germain windrunner ook nog in stijl van de kleuren van de Franse vlag. Het trainingsjack is namelijk overwegend wit met een rood en blauw vlak aan de bovenkant. De rechter bovenkant is uitgerust met een rood vlak en de ander kant is blauw. Dit vlak loopt spits af. Dit heeft alles te maken met de zogenaamde 26 graden chevron. De v-baan is sinds de introductie van de windrunner van Nike eind jaren '70 al onderdeel van het jack. In 1978 was het windjack het eerste kledingitem dat door Nike werd gelanceerd. Voor die periode produceerde het Amerikaanse sportmerk alleen maart schoenen. Een ander retro detail op de windrunner is het logo van Nike. Dit betreft namelijk het Futura logo. Dit logo bestaat uit de swoosh en het woordmerk van Nike. Dit logo werd door het merk in 1995 voor het laatst gebruikt op voetbalshirts van Nike en is na 25 jaar weer back in business. Dit logo staat op alle Champions League items van Paris Saint Germain. De rechterborst is uitgerust met het logo van de club van trainer Thomas Tuchel. Verder is het jack voorzien van de gebruikelijke technische kenmerken. Het jack bevat namelijk een hoge capuchon. Daarnaast bevinden zich twee zakken met een rits aan de zijkanten. Verder is het trainingsjack uitgerust met een extra laagje ripstop materiaal. Kenmerkend hieraan is dat dit wind en regen nog beter tegen houdt. Het Paris Saint Germain windjack heeft een normale pasvorm en bevat een tailleband aan de onderkant, waarmee de fit versteld kan worden. Bovendien is het Paris Saint Germain regenjack ook dit jaar weer de Dri Fit technologie, voor een betere ventilatie en vochtafvoer.
Check hieronder nog meer afbeeldingen van de nieuwste Paris Saint Germain windrunner, die vanaf nu gedragen wordt door spelers als Neymar, Cavani, Mbappé en nog meer sterspelers. Check bovendien het nieuwste Paris Saint Germain tech fleece pack! 
Paris Saint Germain windjack bestellen
De witte Paris Saint Germain windrunner kun je vanaf nu bestellen in verschillende versies. Het jack is namelijk ook beschikbaar voor vrouwen. Zowel voor mannen als voor dames heeft het jack een prijs van € 89,95 en voor kinderen is het trainingsjack € 69,95. De jacks zijn beschikbaar in de maten 128, 140, 152, 164, 176, S, M, L, XL en XXL. Directe levering!
Bestel het PSG Nike windjack in deze WINKEL! 
of deze SHOP!