27 december 2017
Paris Saint-Germain Tech Fleece trainingspak 2018
Paris Saint-Germain is in bloedvorm dit seizoen. De hoofdmacht uit Frankrijk scoort aan de lopende band en sterren Neymar, Cavani en Mbappe dollen met elke verdediging. De superclub die momenteel eerste staat in de Ligue 1 heeft een nieuw 2018 trainingspak uitgebracht! Dit maal is trainingspak dikker en heeft het andere kenmerken dan de standaard trainingspakken! Benieuwd welke dit zijn? Lees dan snel verder.
Paris Saint-Germain jack
De Franse superclub heeft in de afgelopen jaren tal van trainingspakken uitgebracht. Deze waren vaak van een Dry en stretch materiaal gemaakt. Toch heeft Paris Saint-Germain nu een ander trainingspak weten te maken, het Tech Fleece trainingspak!
De grijze Tech Fleece Windrunner heeft de bekende kenmerken als het originele jack, zo is er een chevronvormig vlak op de borst en is het jack gemaakt van een zacht fleece. Dit zachte fleece is speciaal gemaakt om de warmte vast te houden tijdens het sporten of als het pak casual gedragen wordt! Het grijze Paris Saint-Germain jack heeft diepe steekzakken waardoor het jack functioneel wordt. Ook heeft dit jack een hoodie en is overwegend grijs met zwarte lijnen. Verder prijkt het Paris Saint-Germain logo op de linkerborst en is het Nike logo in het rood rechts op de borst te zien.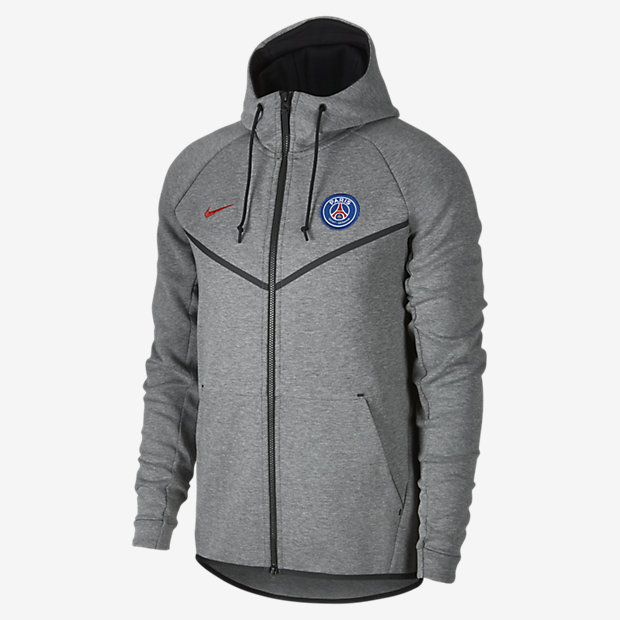 Paris Saint-Germain broek
Het onderstel van het nieuwe pak van Paris Saint-Germain is gemaakt van een Tech Fleece joggingsbroek. Deze joggingsbroek die zich kenmerkt aan de heerlijke warme stof en aan de mooie pasvorm is perfect te dragen tijdens het sporten, maar kan ook casual gedragen worden. De Tech Fleece trainingsbroek die de spelers van de topclub uit Frankrijk gaan dragen is gemaakt van een zacht materiaal. Dit materiaal zorgt er ook voor dat de warmte goed wordt vastgehouden.
De grijze broek heeft een boven koord waarmee de strakheid van de broek bepaald kan worden. Verder staat op het linker bovenbeen het Paris Saint-Germain logo en is rechts het rode Nike logo te zien! Ook heeft de broek zijzakken en rits zakken die lopen over de pijpen van de broek.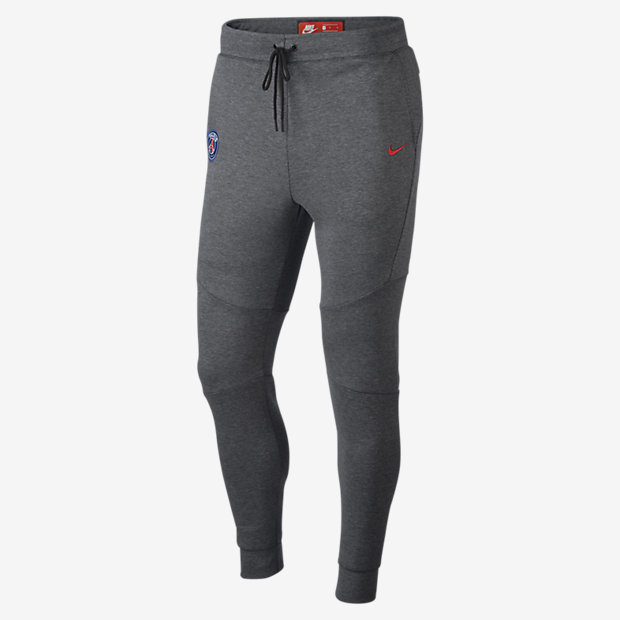 Paris Saint Germain Tech Fleece trainingspak 2018 bestellen
Wil jij maar al te graag in dit trainingspak sporten? Of wil je dit pak casual dragen?
Haal dan snel jouw eigen Paris Saint-Germain Tech Fleece trainingspak 2018 in deze shop of in deze winkel! Het trainingspak is beschikbaar in de maten S, M, L, XL en XXL.