27 september 2017
Paris Saint-Germain en fashion gigant Koché lanceren buitengewone kleding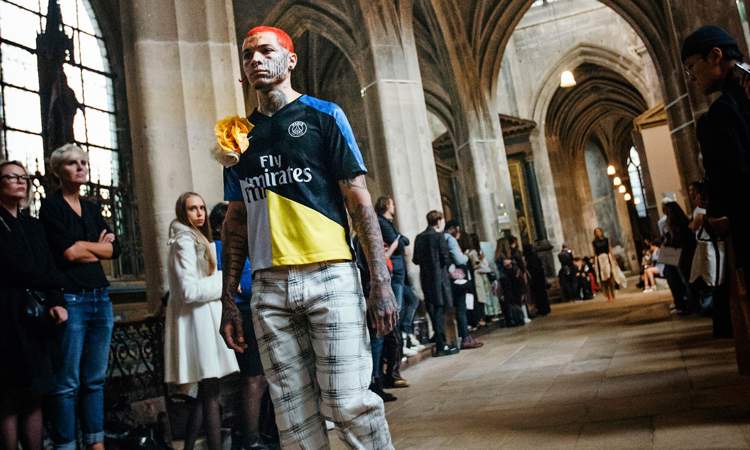 Voetbalclub Paris Saint-Germain is een wereldgigant als het gaat om het verkopen van trainingsoutfits of andere kledingstukken. De club besloot om deze reden dat het geen kwaad kon om iets unieks te lanceren. Deze lancering vond gisteren plaats nadat bekend was gemaakt dat de topclub uit Parijs een meerjarig contract had afgesloten met een hoogstaand kledingmerk: Koché. Wat de ontwerpster van het merk heeft laten zien op de tentoonstelling zijn kledingstukken die wellicht niet bij iedereen in de smaak zullen vallen, of wel? Hieronder geven we een korte impressie van deze unieke collectie en geven we wat meer prijs over de samenwerking tussen beide Franse partijen.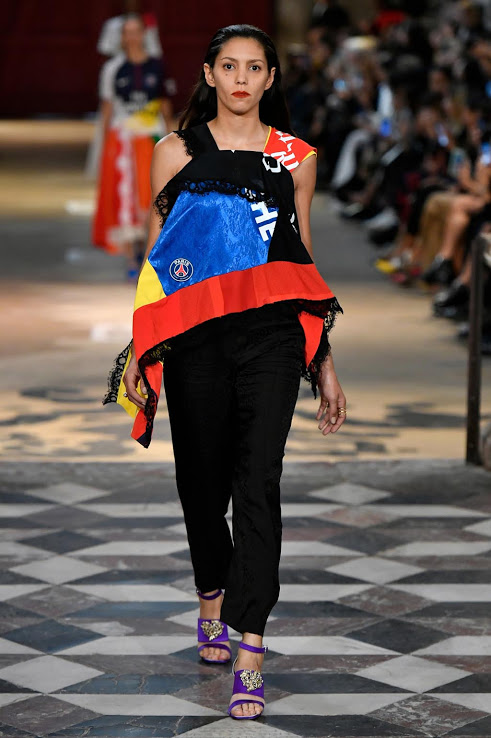 Alleen geïnteresseerd in de huidige kleding van Paris Saint-Germain? Haal het dan in deze shop of deze winkel!
Paris Saint-Germain Koché spring 2018 collection
Een samenwerking tussen een gigantische voetbalclub en een ''apart'' modemerk. Wie dat had voorspeld was als gek verklaard, komt uit verschillende reacties naar voren. Toch is de realiteit anders, want Paris Saint-Germain en Koché doen het gewoon! Dat een van de grootste voetbalclubs zoiets buitengewoons doet zal nog veel mensen aan het denken zetten. Is het futuristisch wat Paris Saint-Germain hier doet? Graven ze hiermee hun eigen graf als het gaat om het verkopen van kleding? Of valt deze combinatie zo goed in de smaak dat de mix tussen deze twee werelden de toekomst gaat worden? Wat in ieder geval wel duidelijk is, is dat de ontwerpster van Koché flink is los gegaan toen zij haar potlood vast hield. Kleurrijke jurken die delen hebben van een trainingssweater, voetbalshirts versierd met glitters, bloemen of andere aparte versiersels. Laat je gekste fantasieën en dromen maar gaan en Koché weet er wel raad mee.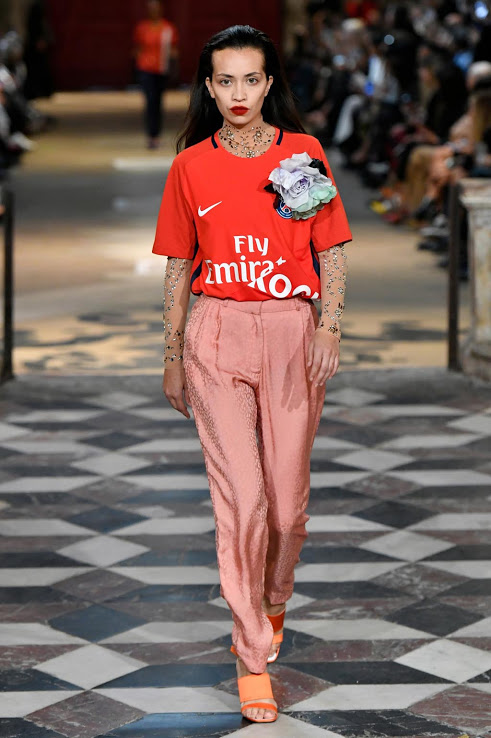 Christelle Kocher, de creatieve ontwerpster en eigenaresse van het bedrijf heeft zichzelf flink laten gaan vinden velen. Christelle, die bekend staat om haar unieke ontwerpen en vele variaties in haar kleding heeft de kledinglijn van Paris Saint-Germain een flinke wending gegeven met deze spring 2018 collectie.
Gedurende de presentatie van deze unieke kleding gisteren in de Saint-Merry kerk in Parijs, die bekend staat om haar tolerantie vertelde Christelle Kocher: "Wat ik mooi vind aan Paris Saint-Germain is dat zij veel modieuzer zijn dan een normale voetbalclub. De club heeft een echte chique uitstraling, een heerlijke associatie met mijn eigen merk. Een iconische club, vooral als je denkt aan de waarde van hun eigen kledinglijn.'' Een mooi verhaal wat wellicht een hele nieuwe grondlegging kan zijn voor deze samenwerking tussen modemerken en voetbalclubs of sportmerken.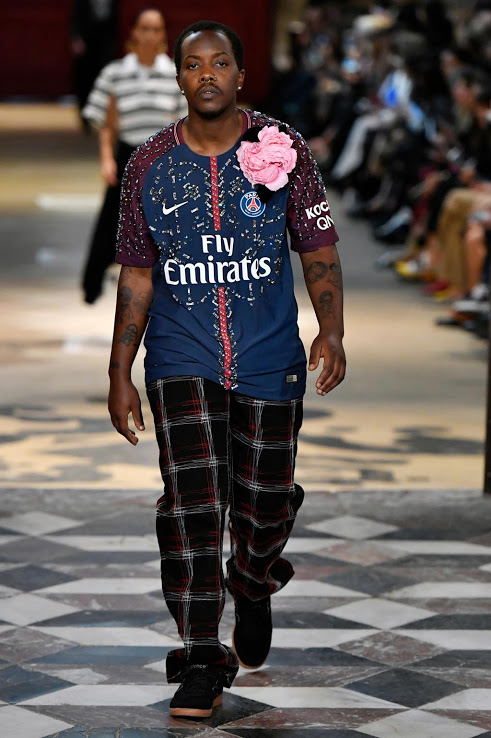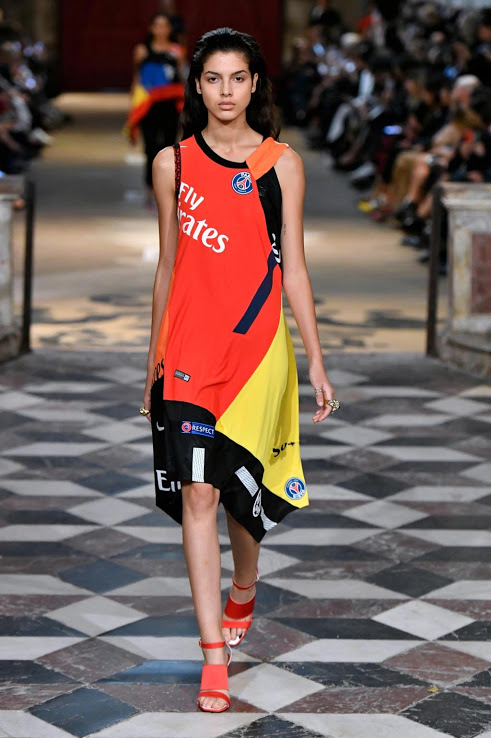 Paris Saint-Germain spring 2018 collection kopen
Als jij deze kledingcombinatie helemaal geweldig vindt of wil jij uniek zijn met deze kleding? Dan is de kleding exclusief te koop in Parijs. Koché produceert een klein aantal producten dus wees er snel bij want de kleding zal snel weg zijn. Wel zal je diep in de buidel moeten tasten, want Christelle Kocher verkoopt haar kleding niet tegen een lage prijs. Integendeel zelfs. 
Andere Paris Saint-Germain kleding kan je kopen kopen in deze shop of deze winkel.