16 februari 2019
Paris Saint Germain draagt zieke Jordan Brand hoodie en jack tijdens Manchester United trip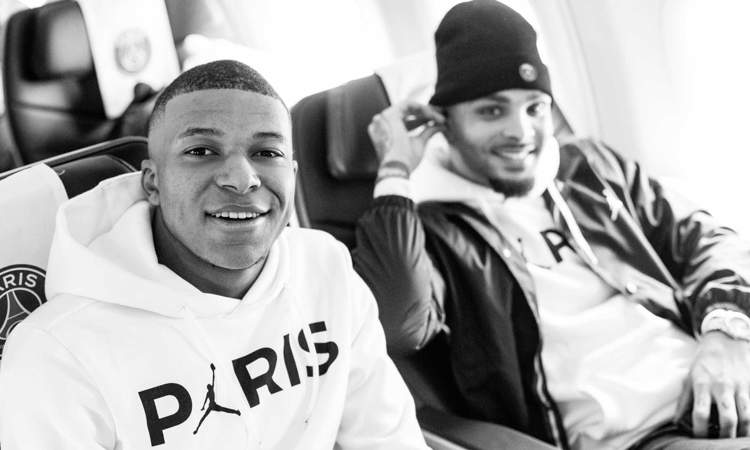 Paris Saint Germain heeft de eerste horde genomen in de knock out fase van de Champions League. De Parijzenaren versloegen United met 2-0, waardoor het over drie weken in Parijs duidelijk is hoe de verhoudingen liggen. Wat je misschien niet wist is dat de spelers van Paris Saint Germain voor en na de wedstrijd tegen Manchester United de PSG x Jordan Brand capsule collectie droegen. Zowel in het vliegtuig naar Manchester als in het hotel droegen de sterren van Paris de nieuwe kleding uit deze vette collectie, die nu alweer een hype is.
Wil je direct items uit direct items uit de PSG X Jordan Brand collectie bestellen? Check het dan exclusief in deze SHOP of deze winkel! 
Deze week lanceerde Paris Saint Germain in samenwerking met Nike/Jordan Brand de nieuwe capsule collectie, bestaande uit 14 items in het wit/zwart. Deze kleur is geïnspireerd door de kleuren van het Champions League uitshirt, waarop niet de swoosh van Nike staat, maar het logo van Jordan Brand, onderdeel van het portfolio van Nike. De collectie bestaat uit trainingsjacks, een trainingspak, t-shirts en zelfs een cap. Bovendien bevat de range een super zieke hoodie met daarop de jumpman van Jordan Brand. Opvallend genoeg droegen veel spelers uit de selectie deze nieuwe hoodie in de aanloop naar de wedstrijd tegen United. Normaliter dragen de spelers van Paris Saint Germain tijdens het reizen naar de wedstrijden pakken en kleding van Hugo Boss.
Paris Saint Germain baarde in september opzien door als eerste club ooit samen te werken met een basketbalmerk. Toch is de samenwerking niet geheel onlogisch. Parijs is een echte basketbalstad en Jordan Brand is onderdeel van Nike. Het mixen van twee sporten kon eigenlijk alleen maar goed uitpakken. Zeker omdat de PSG X Jordan Brand collecties maar beperkt geproduceerd zijn. Hierdoor waren de collectie vaak binnen een dag uitverkocht. Hetzelfde geldt voor de deze week gelanceerde capsule lijn. Nu de spelers ook daadwerkelijk de items uit de capsule collectie dragen, zal de vraag alleen maar stijgen, dus mocht je iets willen, dan moet je snel zijn!
Tijdens de opkomst op het veld waren de spelers te zien in het zogenaamde Full Zip Knitted Flight Jacket. Dit jack heeft de looks van een anthem jack en is het duurste item uit de collectie. De prijs van het jack is namelijk € 275,-. We zullen er niet van opkijken als sterren als Mbappé, Cavani en Neymar in de aanloop naar de wedstrijd tegen Manchester United in Parijs ook items uit de nieuwe collectie dragen en eigenlijk kijken we daar ook wel een beetje naar uit. Het is nu al één van de vetste collecties van dit jaar. En waarschijnlijk volgt er volgend seizoen nog veel meer. Hoe gaaf!
Wil je de nieuwe PSG x Jordan Brand collectie scoren? Bestel het direct in deze SHOP of deze winkel!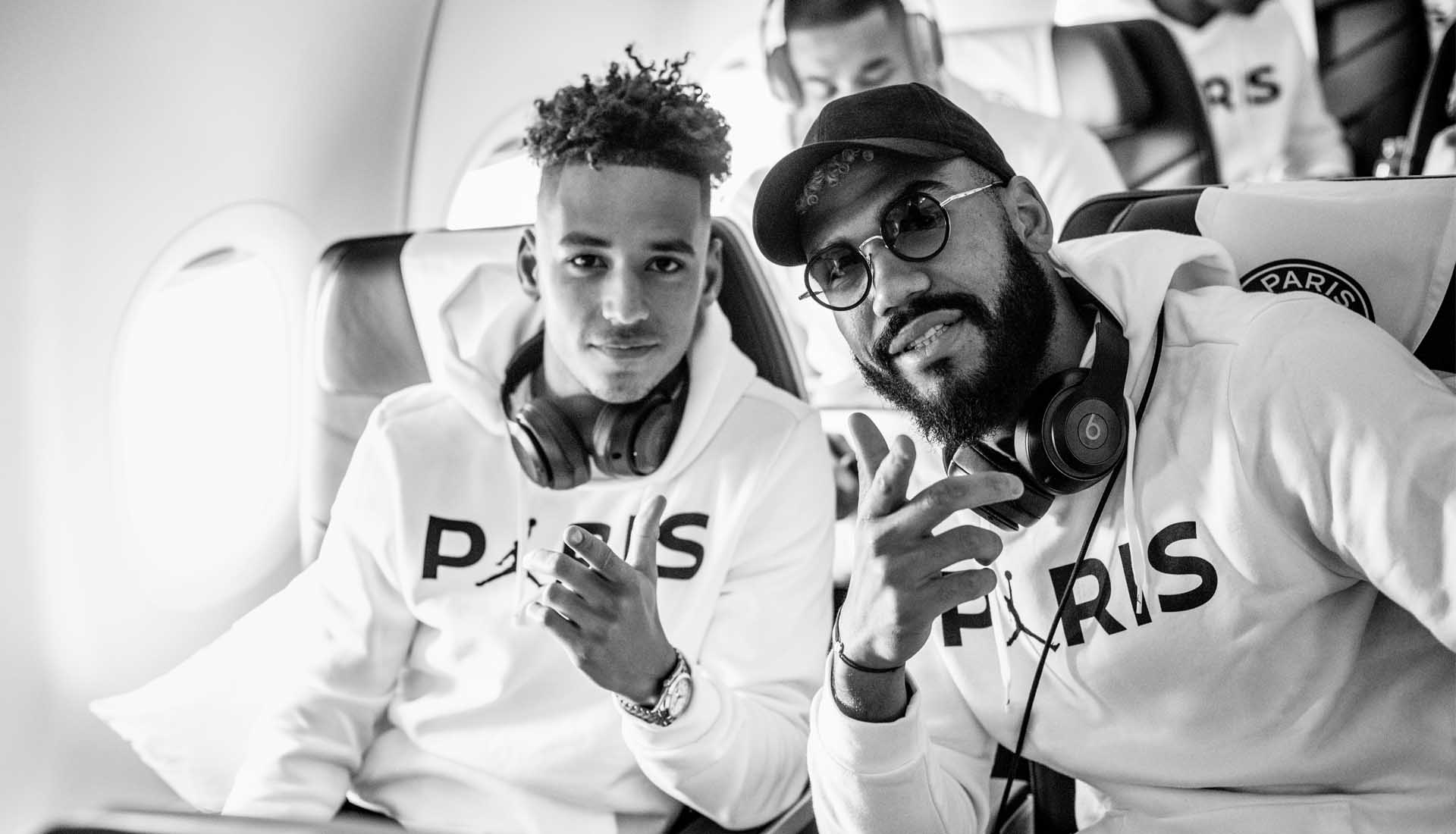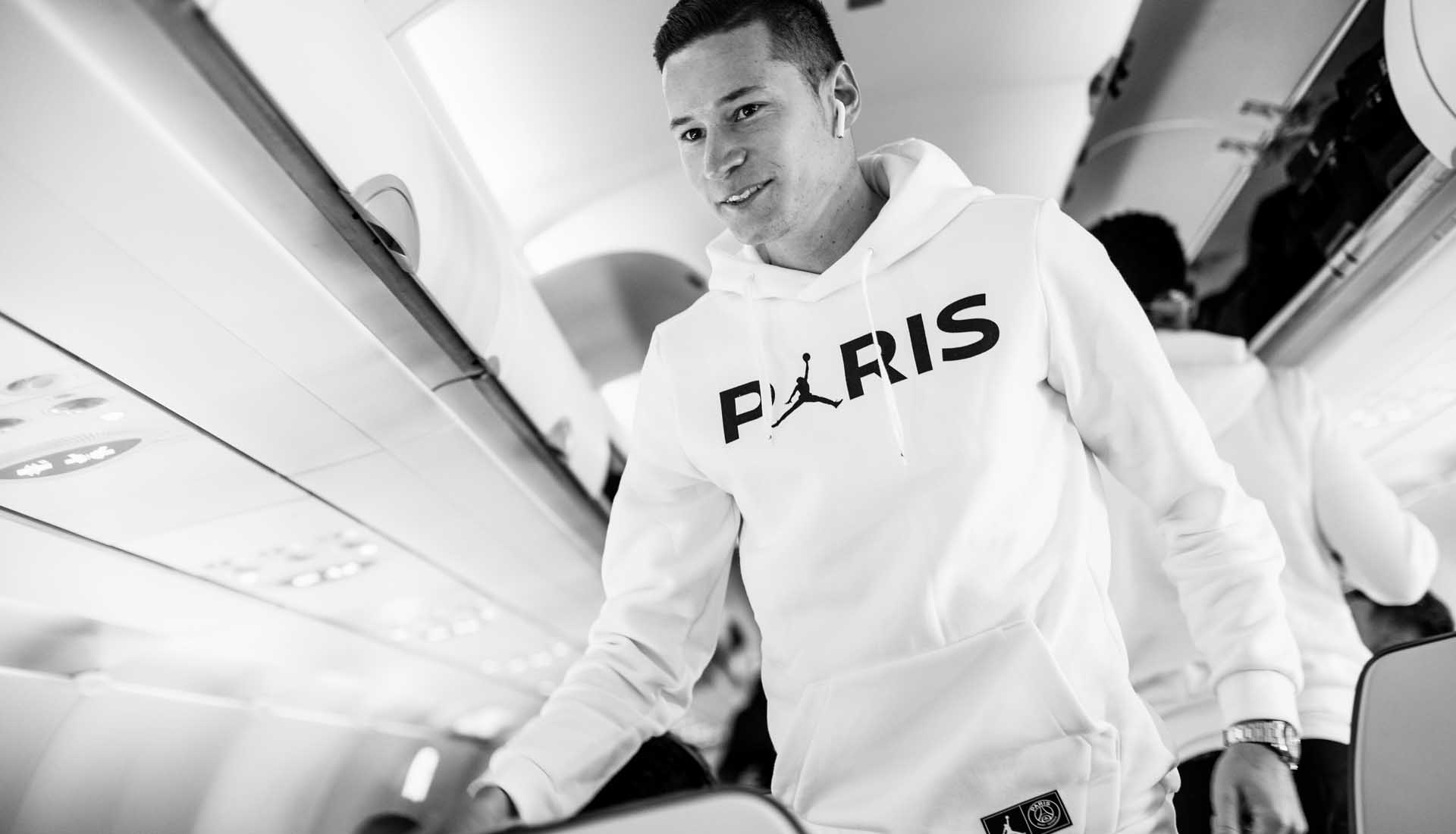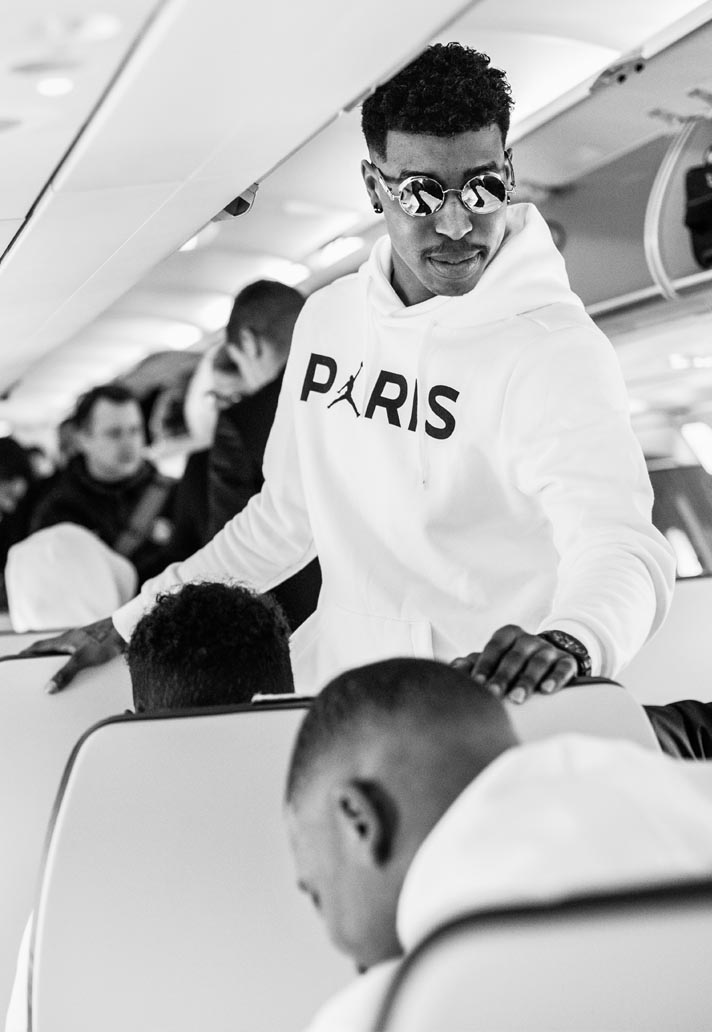 Thanks to Soccerbible!