27 juli 2018
Kylian Mbappé Paris Saint Germain 7 voetbalshirt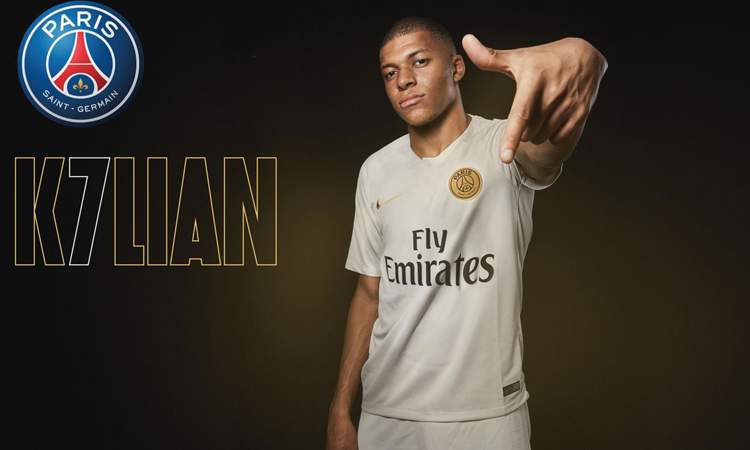 Het talent van het WK van 2018, Kylian Mbappé, heeft vanaf vandaag een nieuw rugnummer bij Paris Saint Germain. Dit maakte de club een aantal uur na de lancering van het nieuwe uitshirt voor 2018-2019 bekend middels een grootse marketingcampagne. Mbappé draagt vanaf dit seizoen namelijk nummer 7 op het shirt van de Parijzenaren. Sinds zijn komst naar Paris Saint Germain vorig jaar zomer droeg het Franse talent nummer 29 op het shirt. Dit nummer wordt nu ingeruild voor nummer 7. Dit nummer behoorde eerder toe aan Lucas Moura. Echter sinds zijn vertrek naar Tottenham Hotspur in januari was dit nummer vrij. Bij Les Bleus draagt Mbappe overigens nummer 10 op het shirt. Antoine Griezmann speelt namelijk bij Frankrijk met nummer 7. Bij Paris Saint Germain heeft Neymar JR weer nummer 10.
Het nieuwe rugnummer van Kylian Mbappé werd door PSG via Twitter gecommuniceerd. Hier had de kampioen een speciale campagne voor bedacht: K7LIAN, met de slogan: ''FU7URE IS NOW.'' De reden dat Mbappé nummer 7 heeft bij Paris is ook bekend. Dit is namelijk het rugnummer van de speler waar Mbappé sinds zijn jeugd al fan van is: Cristiano Ronaldo. Bij Juventus draagt de Portugees nu ook dit nummer. Dit nummer had hij eerder ook al bij Real Madrid en Manchester United.
Voor Mbappé betekent het dragen van nummer 7 al het elfde rugnummer in zijn carriere. Bij AS Monaco droeg de Franse aanvaller maar liefst negen rugnummers: 25, 39, 33, 29, 13, 11, 29, 9 en 10. Bij Paris Saint Germain droeg Mbappé vorig seizoen alleen nummer 29. Check hieronder nog meer afbeeldingen van het nieuwe Paris Saint Germain Mbappé voetbalshirt met nummer 7.
Wil je het nieuwe Mbappé Paris Saint Germain voetbalshirt met zijn nieuwe rugnummer bestellen? Dit kan zowel voor kinderen als voor volwassenen in de onderstaande winkels. De prijs van het shirt voor kinderen is € 84,95 (inclusief officiële bedrukking) en voor volwassenen € 99,95. Check andere PSG producten in het overzicht hiernaast of hieronder. Directe levering!
Bestel het Mbappé PSG shirt in deze winkel
of in de officiële NIKE SHOP!