6 december 2016
Manchester United Pre-Match thuisshirt 2017
Manchester United fans opgelet! Jullie club zal vanaf nu te zien zijn in een nieuw Manchester United pre-match voetbalshirt. The Mancunians zullen dit voetbalshirt vanaf nu in het resterende deel van het seizoen dragen tijdens de warming-up voorafgaand aan thuiswedstrijden op Old Trafford. Het shirt kent een stoer uiterlijk en moet de spelers van Manchester United direct het goede gevoel geven om te kunnen vlammen in de wedstrijd.
Het warming up shirt van Manchester United kent een overwegend wit design. Het design bevat verder ook rode en grijze details. Dit stoere voetbalshirt kent een moderne rode v-hals. Ook de bies aan de uiteinden van de mouwen bevat deze echte United kleur! Verder is op de borst een uniek detail te zien. De borst showt een stoer artwork in zeefdruk. Dit maakt het shirt onderscheidend van andere shirts. Bovendien komen diverse logo's terug op dit shirt. Zo is het Manchester United logo te zien op de linkerborst. Het Adidas logo op de rechterborst is rood. Ook opvallend is dat het logo van Chevrolet op het midden van het shirt niet te zien is. In plaats van dit logo komt het AON logo op deze plaats terug. AON is als bedrijf sponsor van de trainingscollectie van United.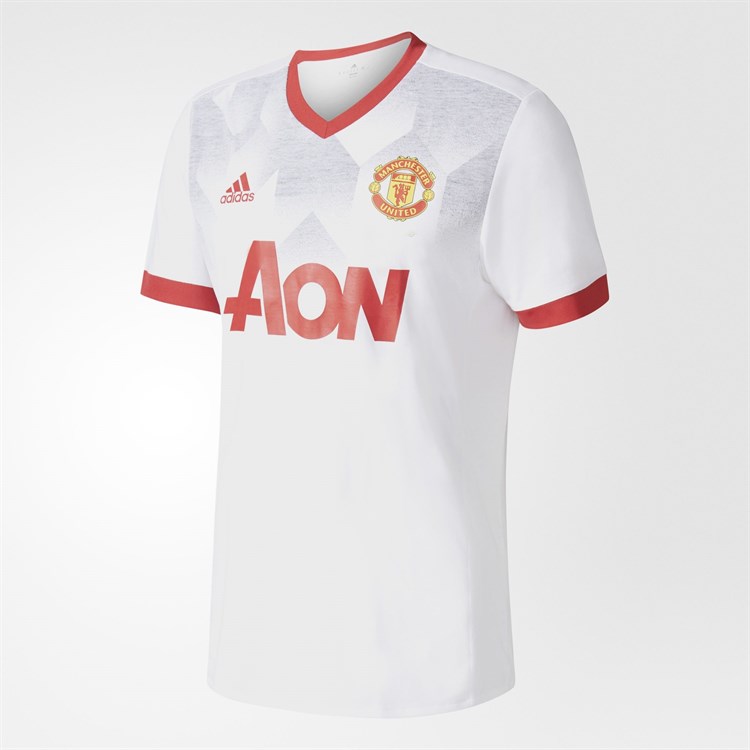 Dit Manchester United warming-up shirt bevat climalite®-stof. Deze stof voert het zweet weg van de huid. Op deze manier blijft het lichaam droog. Dit komt ten goede aan de prestaties van voetballers op het veld. Het shirt zal gedragen worden door sterspelers als Zlatan, Rooney, Mata, Martial, Mkhitaryan, Depay en Pogba.
Manchester United Pre-Match thuisshirt 2017
Wil jij er net zo bij lopen als de sterspelers van Manchester United. Wacht dan niet langer. Ga naar de online store van Adidas en shop dit stoere pre-match voetbalshirt van The Mancunians direct!